Defining and Improving Product Quality
On one hand, quality is concerned with satisfying a set of predetermined specifications. According to this definition, manufacturers or service providers achieve quality by creating products whose characteristics satisfy a set of numerically defined specifications.
On the other hand, quality can be all about satisfying your customers. Achieving customer satisfaction implies using a set of measurable characteristics. The quality of a product is determined on the basis of whether it satisfies customers' expectations in terms of consumption and use. Clearly, it's best for businesses to concentrate on using a combination of these two definitions. By doing so, you will ensure your products meet the requirements and satisfy customers' needs simultaneously.
5 Ways to Improve Business Operations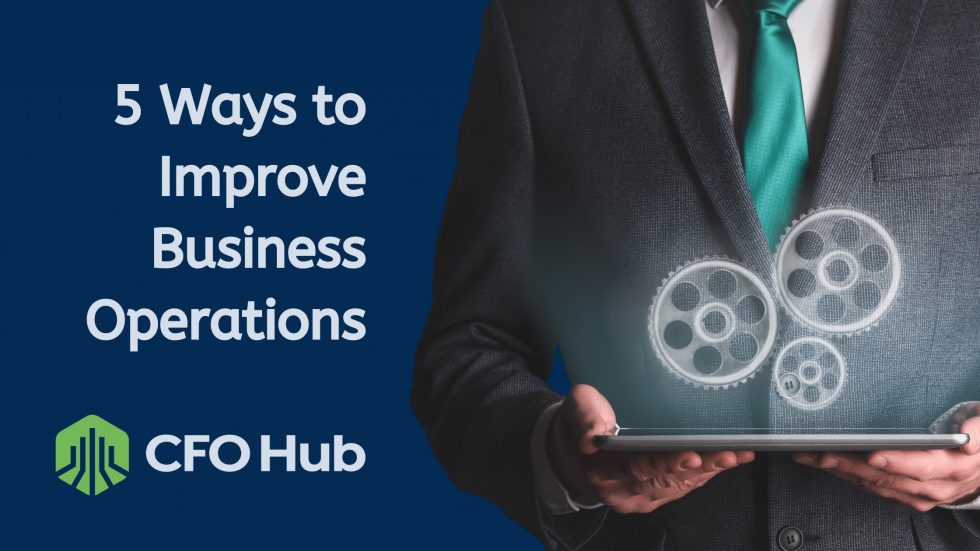 It should be no surprise that every business has areas in which it could optimize. In all likelihood, there are dozens of ways your own company could enhance its internal workflows, processes, and strategies.
But today, we will narrow our focus down to five overarching ways you can improve business operations. Let's discuss the ways in which you can close and finesse your operational gaps.
Financial statement analysis allows you to take stock of your company's financial health and performance. It is necessary for complying with business rules and regulations and ensuring that the company is meeting the needs of its key stakeholders.
For starters, you will need to compile your key financial statements , including the balance sheet, income statement, and cash flow statement. These breakdowns allow you to measure the impact of business decisions, create accurate budgets , and cut unnecessary costs while aligning your organization with the guiding vision.
Financial statement analysis can benefit organizations in numerous ways. It provides internal and external stakeholders with the opportunity to make informed decisions regarding investing. Financial statement analysis also provides lending institutions with an unbiased view of a business's financial health, which is helpful for making lending decisions.
To accomplish this, you will need to develop and define operational goals on both a macro and micro level. Additionally, these pursuits have to be shared throughout the organization so that every teammate is aligned and working toward the same goal.
S (Specific) – When setting goals, ask yourself what exactly you wish to accomplish. This should answer all of the who, what, when, where, which, and why questions.
M (Measurable) – Do you have metrics that you will use to gauge if you met your goal? Tangible goals need to be measurable. Otherwise, there is no way to map your progress.
A (Achievable) – How important is the goal, and is it feasible? A goal should be something you can work toward and accomplish rather than a benchmark that feels impossible to cross over.
T (Time-bound) – Goals need a deliverable target date. Carefully consider how long a goal may take to achieve, and set reasonable time constraints that create a sense of urgency without straining the operational components of the team.
If you want to set attainable goals, you need to know your key performance indicators. KPIs are important business metrics that you can leverage to track, measure, and analyze your financial activities and overall performance.
Financial performance metrics

Gross profit margin
Net profit margin
Operating cash flow
Working capital
Quick, current, and debt-to equity ratios

Consumer insights and marketing

Customer acquisition cost
Customer lifetime value
Customer satisfaction index
Customer retention
Market growth rate

Customer metrics

Customer churn rate
Dwell times on site
Number of new vs. repeat site visits
Percentage of customers who are very satisfied
Contact volume by channel

Supply chain and operational performance

Order fulfillment cycle time
Yield
Throughput
Earned value

KPIs can help an entire organization react quickly to events that can have an impact on the business. They allow a company to set targets, reach strategic goals, and create a sense of shared purpose across the organization.

#4 Marketing Matters

Whether you run a mom-and-pop shop or a Fortune 500, there will always be a need for high-impact marketing. But for smaller organizations with budget constraints, strategic low-cost marketing can provide significant ROI. Done well, it dramatically improves the way your company reaches out to existing and potential leads.

Search Engine Optimization – A SEO strategy involves aligning your website and all of its content with search engine algorithms and customer's likely questions.

Content marketing – Your website and blog provide a fantastic opportunity to establish your authority, build a community, and drive SEO. A comprehensive content marketing strategy will include:
Video
Blogs
White papers and eBooks
Email
Social media marketing – One of the most powerful marketing and customer relation tools at your disposal, there are several valuable channels you could potentially utilize, including:
Instagram
YouTube
Facebook
Twitter
LinkedIn
TikTok
Paid ads – If you have a limited budget, PPC campaigns may be too expensive for your taste. However, a strategic campaign—especially with long-tail keywords—can significantly reduce your total customer acquisition costs.

How to Fix an Undefined CRM Strategy

To start defining your CRM strategy, talk with your sales leadership and analysts. Identify and define key data and day-to-day elements and how they each fit into the sales process. After you discover that, the goal is to neatly fit it all into your CRM strategy, which also needs defining, down to all of its data and day-to-day elements. Then, you need to optimize your systems so you can follow that path.

Of course, healthy customer relationships still depend on in-person interactions, but a CRM strategy provides a collaboration and sequencing tool to scale those experiences and improve them. When done right, a sound CRM strategy will put your organization ahead of your competitors.

Content labeled as the Expert Forum is produced and managed by Newsweek Expert Forum, a fee based, invitation only membership community. The opinions expressed in this content do not necessarily reflect the opinion of Newsweek or the Newsweek Expert Forum.

Sources:

https://www.smallbusinessrainmaker.com/small-business-marketing-blog/5-ways-to-increase-product-quality ^(https://bannerad-design.com/goto/https://www.smallbusinessrainmaker.com/small-business-marketing-blog/5-ways-to-increase-product-quality)
https://cfohub.com/improve-business-operations/ ^(https://bannerad-design.com/goto/https://cfohub.com/improve-business-operations/)
https://www.newsweek.com/5-ways-good-crm-strategy-can-improve-your-business-1690772 ^(https://bannerad-design.com/goto/https://www.newsweek.com/5-ways-good-crm-strategy-can-improve-your-business-1690772)