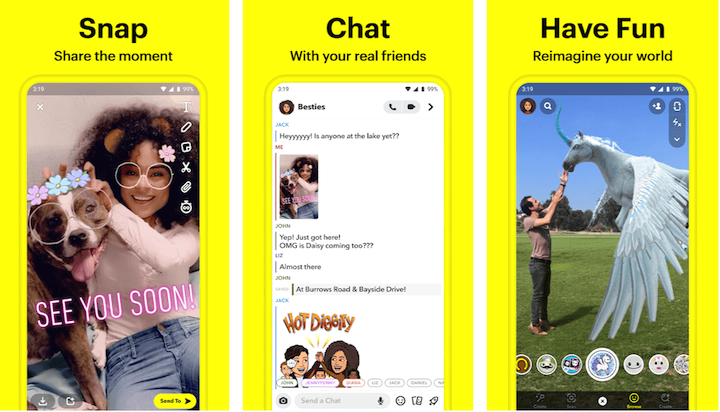 7 statistics that prove the importance of social media marketing in business
Digital transformation is in full swing. Accelerated by the events of 2020, this wave of transformation marks a turn of the tide in how businesses and consumers view, use and value social media—and we've got the data to prove it.
The Harris Poll, on behalf of Sprout Social, surveyed more than 1,000 US consumers and 250 business executives to better understand how they use social media, the importance of social media marketing, social's impact on organizations and how its influence will change in the coming years.
For businesses wondering when to start making greater investments in social, the time is now. The sooner you start embracing social media as a critical business function, the farther the strong social current will take you. Companies that fail to do so risk being left behind.
1. 55% of consumers learn about new brands on social
In the age of streaming, we don't need to watch or listen to ads anymore. We can fast forward, change the channel or take our pick from an infinite library of commercial-free content. On social media, however, ads and brand content live in or next to a social stream and look a lot like the content we consume from our friends, family and other connections.
Why it's important
When we look closer at the 55% of consumers who learn about new brands on social, Gen Z and Millennials are especially likely to use social for brand discovery. As the spending power of these digital natives increases, the size of social networks will also continue to grow, reaching over 243 million social network users in the US by 2025. If your brand isn't poised to capitalize on the growing networks, those consumers are most likely going to discover your competitors first.
Social media marketing statistics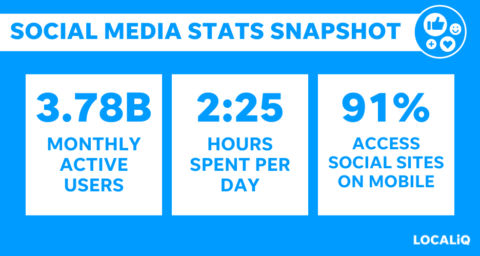 Knowledge of your audience: What platforms they use, when they go on them and why, what content they like, who else they're following, and more.
Brand identity: What is the message you want to convey to your audience? How do you want them to feel when viewing your content?
Content strategy: While there is a level of spontaneity on social, you'll need a structured content strategy to be able to have a consistent voice and produce quality content regularly.
Analytics: Quantifiable insights will inform your strategy, including who you're reaching, the right content to share, the best times to post, and more.
Regular activity: Social media is a real-time platform. If you want to use it to grow your business, you need to post regularly, stay on top of engagements with your business, engage back, keep up with trends, and maintain accurate profiles.
Inbound approach: Don't use social media to pitch your business. Focus on adding value through useful and interesting content and building up those around you. This, in turn, will organically promote your business and others will promote it for you.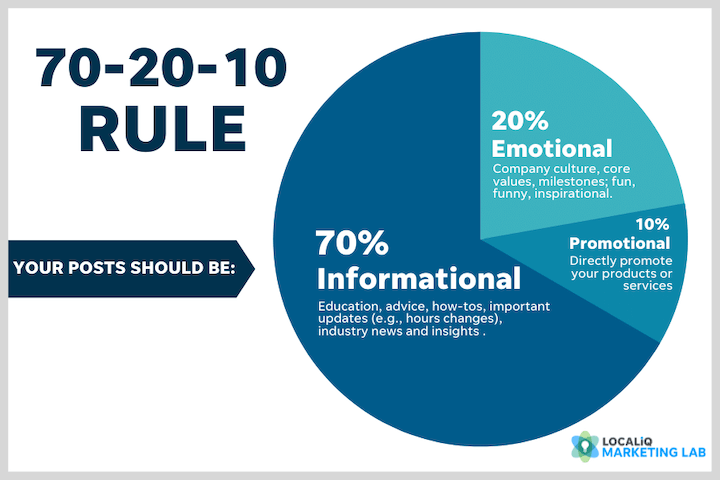 Creating your social media marketing plan
Now that you know the essentials of a social media marketing strategy, it's time to put it into action. Your social media marketing plan is the roadmap to carrying out your strategy. It puts structure around your efforts so you can measure your success and make sure you're spending your resources wisely. Here's how to create your social media marketing plan:
Choose your platforms: Choose based on your target audience, platforms popular for your industry, as well as your bandwidth. Only take on the number of platforms you can actively keep up with. You can always start with one and then add on more slowly as you get the hang of them.
Set goals and objectives: These should be simple and task-like to start, like post once a day for a month, get your profiles set up, or do a competitive analysis. Once you get into a rhythm and gather insights, you'll be able to set more specific and strategic goals like increase your following by X% or publish X [content types you've found your audience likes] per month.
Report and adjust regularly: Use each platform's analytics to identify which posts generate the most engagement, whether you're getting more followers, and to see your audience demographics. Harness and scale up what works and nix what doesn't.
Cost-Effective
Social media marketing is possibly the most cost-efficient part of an advertising strategy. Signing up and creating a profile is free for almost all social networking platforms, and any paid promotions you decide to invest in are a relatively low cost compared to other marketing tactics. Being cost-effective is such an advantage because you can see a greater return on investment and retain a bigger budget for other marketing and business expenses. If you decide to use paid advertising on social media, always start small to see what you should expect. As you become more comfortable, fine tune your strategy and try increasing your budget. Just by spending a small amount of time and money you can significantly increase your conversion rates and eventually get return on investment on the money you initially invested.
One of the most valuable advantages of social media is marketplace insight. What better way to know the thoughts and needs of your consumers than by directly talking to them? By monitoring the activity on your profiles,, you can see customer' interests and opinions that you might not otherwise be aware of if your business didn't have a social media presence. Using social media as a complementary research tool can help gain information that will aid you in understanding your industry. Once you gain a large following, you can use additional tools to analyze the demographics of your consumers. Another insightful aspect of social media marketing is the ability to segment your content syndication lists based on topic, and identify which types of content generate the most impressions. These tools give you the ability to measure conversions based on posts on various social media platforms to find the perfect combination for generating revenue.
Thought Leadership
Posting insightful and well-written content on your social media is a great way to become an expert and leader in your field. There is no one way to become a thought leader – it requires work that can be supported by online networking tools. To establish yourself as an expert, be sure to utilize social media platforms and build your presence. Be communicative, connect with your audience, share content, and promote your authority. When your social media campaign is aligned with other marketing efforts, your skills will be highlighted and followers will look up to you. Being able to directly connect with your customers creates a relationship that they will value, allowing you to become a notable influencer in your field.
It's clear that social media marketing has its advantages, so if your business doesn't already have the appropriate profiles, create them! Fill out your business' information and post some engaging content to begin gaining followers. As mentioned, ask people relevant to your business to "like" and "share" your page to help build your profile. With consistent updating, the right social media marketing strategy will lead to increased traffic, better SEO, higher conversion rates, improved brand loyalty, and much more. There are virtually no reasons not to implement social media into your marketing strategy. Since it is so cost-effective, there is hardly anything to lose. Your competition is most likely already on social media, so don't let them take your potential customers. The sooner you start, the sooner you'll see growth in your business.
Sources:
https://sproutsocial.com/insights/importance-of-social-media-marketing-in-business/ ^(https://bannerad-design.com/goto/https://sproutsocial.com/insights/importance-of-social-media-marketing-in-business/)
https://www.wordstream.com/social-media-marketing ^(https://bannerad-design.com/goto/https://www.wordstream.com/social-media-marketing)
https://www.bluefountainmedia.com/blog/advantages-of-social-media-marketing ^(https://bannerad-design.com/goto/https://www.bluefountainmedia.com/blog/advantages-of-social-media-marketing)